Join us for Ten Days of Prayer 2021! We believe prayer is the birthplace of revival. God has worked so many miracles in past years as we have sought Him together in prayer and fasting. The Holy Spirit has brought about conversions, renewed passion for evangelism, revived churches, and healed relationships.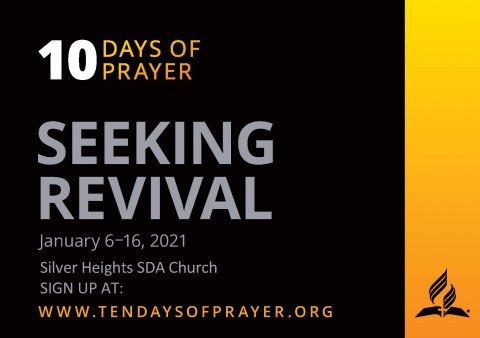 Welcome to the Silver Heights SDA Church in Winnipeg, Manitoba. We are a Christian community and would love to have you join our family. To learn more about what we believe you can visit our About Us page. Please join us for Bible study, worship, and prayer.
All services and meetings are being conducted via Zoom. Call for details.
Saturday Service Times: 
Sabbath School: 9:15 am
Worship Service: 11:00 am
Wednesday Vestry Day:  3:00 pm - 7:00 pm
Wednesday Prayer Meetings: 7:00 pm